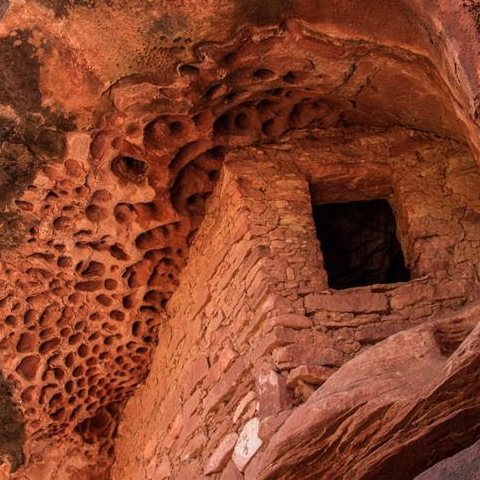 In recent years, Bears Ears Partnership (BEP) has assisted in leading a group of core partners—including leaders from the region's Tribes and Pueblos, Indigenous-led organizations, archaeologists, and conservation groups—in a collaborative effort to advocate for the protection of the "Lands Between," located between Bears Ears, Canyons of the Ancients, and Hovenweep National Monuments. This landscape is an integral part of a contiguous cultural landscape that connects Chaco Canyon, Mesa Verde, Bears Ears, and beyond.
The Lands Between is an ancestral and spiritual home of the Hopi, Zuni, the Rio Grand Pueblos, Nuche (Ute), Diné (Navajo), Paiute, and other Indigenous people, that preserves a history of human occupation dating to at least the Archaic period (6,000 to 2,000 BC).
This region is the most archaeologically rich swath of public lands in the United States that remain unprotected against oil and gas leasing. Spanning over 500,000 acres, these "Lands Between" hold a staggering number of cultural sites.
Yet, this landscape remains threatened by the oil and gas industry. Between 2018 and 2019, the Trump Administration leased more than 100,000 acres of this landscape to oil and gas interests—often with minimal input from Tribes and the public. There are approximately 50,000 acres of Utah State School and Institutional Trust Lands Administration (SITLA) lands embedded in the Lands Between, acreage that SITLA is especially interested in developing for mineral extraction.
In response to this threat, BEP and our core partners are educating and advocating on behalf of this landscape, prioritizing Indigenous leadership in decision-making and speaking throughout these efforts.
BEP has already facilitated visits to the Lands Between by the Hopi Lands Commission and members of the Pueblo of Acoma's Tribal Historic Preservation Advisory Team. Our team presented to All Pueblo Council of Governors (APCG) leadership, APCG Natural Resources Subcommittee, and the Navajo Nation Tribal Historic Preservation Office.
Our team also presented to the All Pueblo Council of Governors Natural Resources Council as well as the Navajo Nation Tribal Historic Preservation Office. We will continue to facilitate visits with Tribal authorities, archaeologists, and other interested parties.
With support from Advocates from the West, BEP refiled litigation on the 2018 oil and gas lease sales in the "Lands Between."
Moving forward, BEP will continue to advocate for the "Lands Between" alongside Indigenous leadership and other core partners in the vital effort to preserve and protect this ancestral landscape. We also remain steadfast in encouraging Bureau of Land Management leadership to pause all new oil and gas leases in the Lands Between until our Indigenous partners have been fully consulted and a "smart from the start" leasing plan has been created.
We will continue to adamantly work alongside our partners to ensure that the immense cultural significance of this landscape is fully considered in its management moving forward.