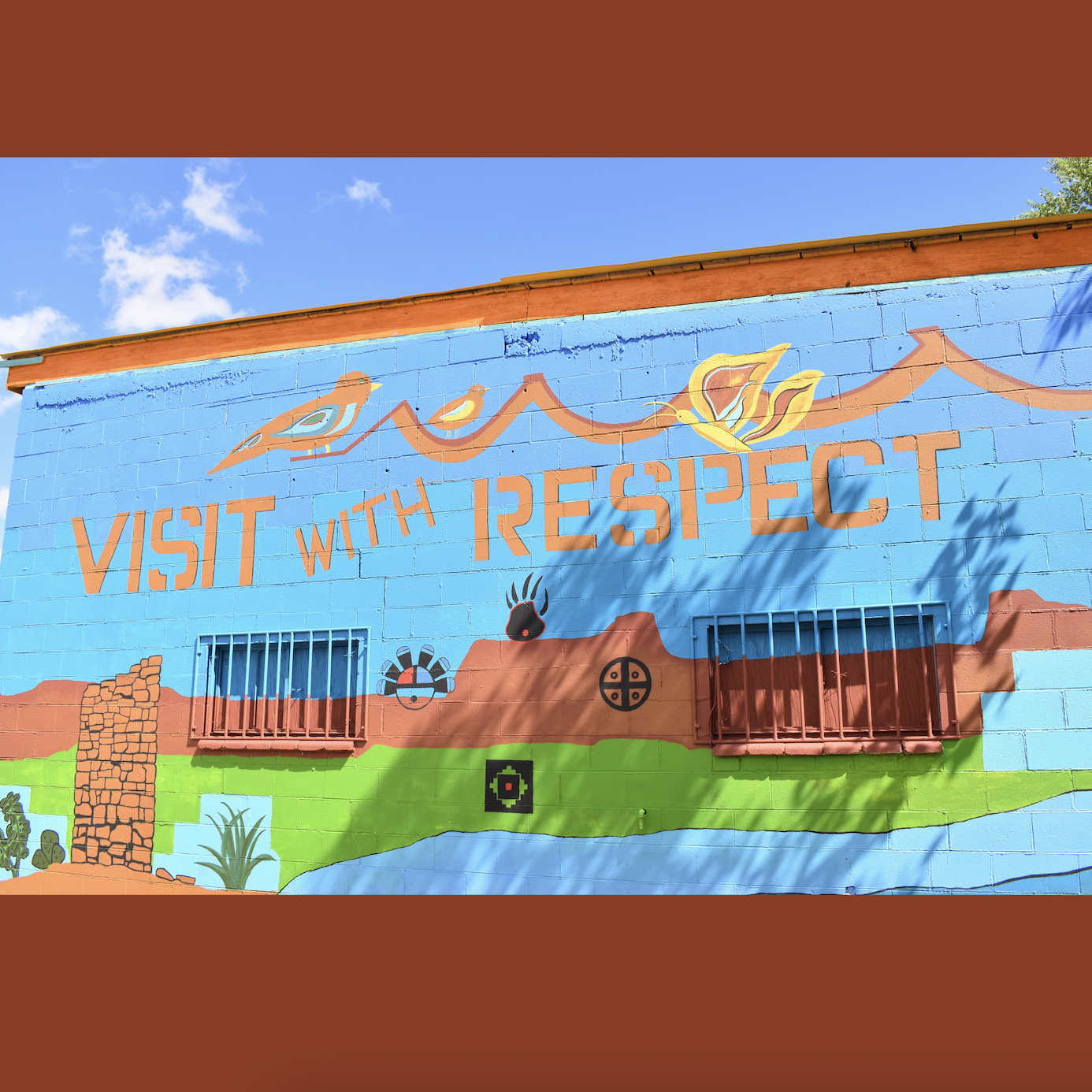 Today, we are excited to announce that Bears Ears Partnership and the Bears Ears Commission are partnering to grow and enrich Visit With Respect - together. If you don't already know, Visit With Respect is an educational initiative created by Bears Ears Partnership to give visitors the resources they need to visit Bears Ears National Monument with respect.
Now, we are joining efforts to preserve the greater Bears Ears cultural landscape, including sacred sites and both natural and cultural resources that hold centuries of healing, protection, and importance. The continuation of Traditional Indigenous Knowledge, culture, and language will be at the forefront and guiding foundations of our partnership efforts.
Together, our goal is to spread awareness about how to visit Bears Ears and other ancestral landscapes with respect by educating visitors on the significance of leaving the land as we found it.
What is Visit With Respect?
In Bears Ears National Monument, evidence of those who once inhabited the vast canyons and mesa-tops is everywhere: there are more than 100,000 documented cultural sites within the national monument's boundaries, making the region one of the most extensive archeological areas on earth. Rock imagery, pottery shards, ancestral cliff dwellings and structures remind visitors of not only those who walked these lands before us, but the sanctity of this living, cultural landscape. These sites, structures, imagery, and so-called artifacts are still used in cultural and spiritual practices today and to all of the Coalition member Tribes serve as a present-day connection to their people, both present and past.
Because of massive public attention drawn to Bears Ears National Monument in recent years, we have seen a rapid increase in visitation and resulting damage to the region's natural and cultural resources. While most visitors to this ancestral landscape are well-intentioned, the cultural and physical landscapes are still at great risk of being loved to death.
In response, Visit With Respect was developed to encourage responsible visitation and curb the degradation of the landscape and all that it holds. Visit With Respect is a multifaceted education campaign intended not to encourage visitation to the region, but to give visitors the resources and tools they need to visit Bears Ears National Monument and other sensitive ancestral landscapes so they can be protected for generations to come.
Visit With Respect provides easy guidelines for visitors to learn and practice when they are spending time in the region. The campaign is built around icons, specific to each Visit With Respect guideline, so that the messages are quickly digestible—no reading needed—and easy to remember. Each of these guidelines are directed towards the appropriate visitation of cultural landscapes, including:
View Sites from a Distance
Dogs & Archaeology Don't Mix
Don't Touch Rock Imagery or Make Your Own
Leave All Artifacts
Stay on Designated Roads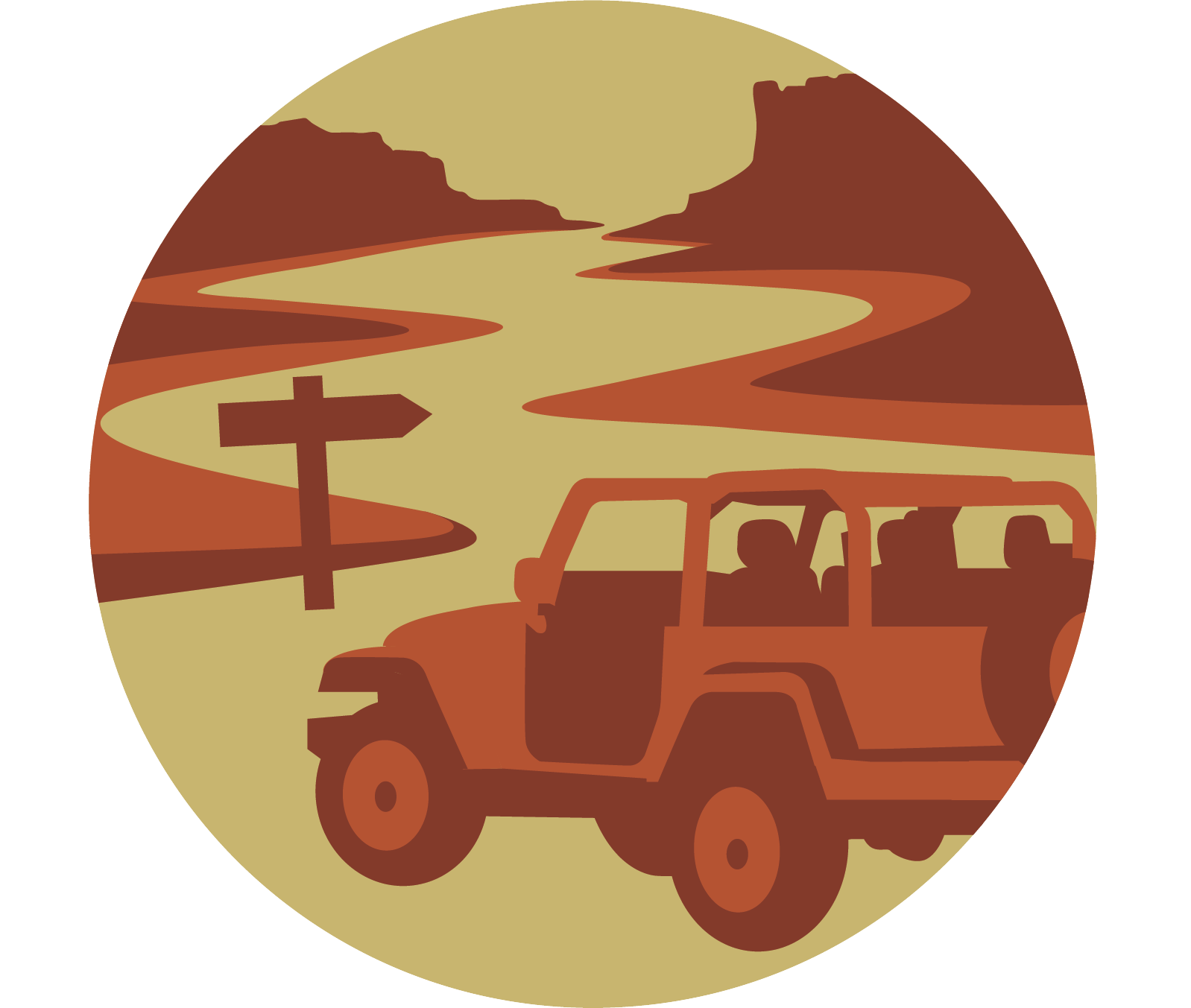 Use Rubber-Tipped Poles
To learn more about our Visit With Respect messaging, go to visitwithrespect.org, where you can see the rest of the guidelines, videos, and more information.
Learn more about visit with respect
It's important to remember that all public lands are ancestral lands, taken from Indigenous people. These principles can and should be utilized on all ancestral landscapes, especially in regions with sensitive cultural resources, similar to those found in Bears Ears.
The Collaborative Future of Visit With Respect
Visit With Respect is more than just a campaign or program, but an ever-evolving movement that strives to advocate for and raise awareness about respectful visitation of ancestral landscapes - the physical embodiment of the past, present, and future of modern-day Tribes and Pueblos. This partnership is a commitment to growing this movement so that these places can be cared for the way they deserve and ensure they can be enjoyed and shared with future generations.
"Through our collaboration with the Bears Ears Commission, we can build on an already established campaign to highlight and bring focus to the most crucial role in the Visit With Respect program: Indigenous Tribal partnerships," explains Semira Crank (Navajo), BEP's Visit with Respect Program Director. "Their influence in Indigenous communities will help grow the extent of our messaging and purpose in protecting sacred landscapes for generations to come."
While Visit With Respect teaches visitors how to visit cultural landscapes respectfully, there seems to be a lack of understanding of why they should do so. Highlighting and reinforcing Indigenous perspectives and Traditional Indigenous Knowledge can help build an understanding for why these guidelines were developed in the first place - that's why the Bears Ears Commission and Bears Ears Partnership have partnered to grow Visit With Respect - together.
"This partnership is testament to the growing need to educate and evolve the way we visit these special places we all hold dear - that so-called public lands, which were once Indigenous homelands - all deserve care, intention, and respect," says Charissa Miijessepe-Wilson (Potawatomi & Kickapoo), Bears Ears Inter-Tribal Coalition's Co-Director. "I'm hopeful that by teaming up with Bears Ears Partnership on Visit With Respect, we can continue to build upon the foundation of the work and broaden our impact using the wisdom, practices, and values passed down through generations of stewards before us."
Meet the Partners
Founded by leaders from the Hopi Tribe, Navajo Nation, Ute Mountain Ute Tribe, Zuni Tribe, and Ute Indian Tribe in 2015, the Bears Ears Inter-Tribal Coalition (BEITC) acts as both a non-profit - working to protect the greater Bears Ears region by developing a land management plan for the Monument - as well as an extension of each Tribe's sovereign authority. The Coalition exercises Indigenous political sovereignty to advocate for Bears Ears and uses Traditional Ecological Knowledge to improve and guide management of the sacred landscape. The BEITC supports the Bears Ears Commission (BEC), the entity formally established and recognized as the Tribal body collaboratively managing the BENM.
Bears Ears Partnership (BEP) - founded in 2010 (formerly Friends of Cedar Mesa) - works in partnership with Tribes, land managers, and community members to provide on-the-ground programming and services to protect and build respect for the greater Bears Ears region. Leading collaborative cultural site conservation work, running the Bears Ears Education Center, and developing Visit with Respect are just a few ways that BEP works to ensure that natural and cultural landscapes of the greater Bears Ears region are safeguarded for the future.